How to mount ISO file game?
After the game files are
downloaded
and you start the process of installing the game, you need to know how to properly mount
ISO images

, since in most cases, all games are provided in this format. This instruction will allow you to understand how to mount
.iso files
on all types of Windows systems, on the newest
10
it is very simple to do it, without additional programs. On newer
Windows 8
and
10

 systems
, Windows offers a built-in way to mount ISO disk image files.
How to Mounting  ISO Image in Windows 8, 8.1 or 10:
Windows 8 and 10 have a built-in ability to mount as an ISO image of the disk, you don't need to install additional software, which makes the process better and easier.

The first step is to double-click on the ISO file of the game you want to install. The file icon should look similar.
Another method, it is also effective, right-click on the file, select — «Mount».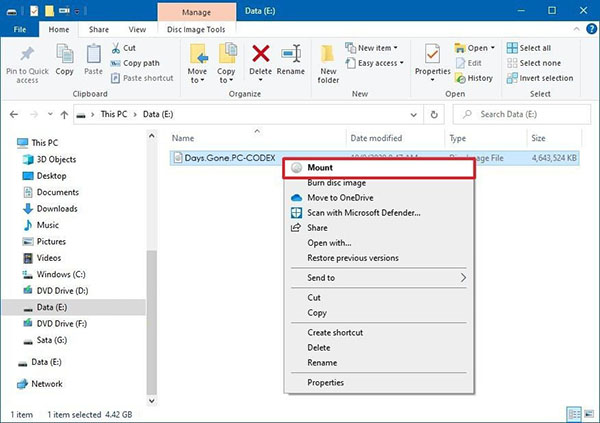 How to Mounting  ISO Image in Windows 7:
If you are using Windows 7, you will need the dedicated
Ultra ISO program
. 
There is no need to describe how to install this program, everything is very simple there. 
Mounting an optical drive image is the process of connecting a virtual disk to a virtual drive. In simple terms, it is the virtual insertion of a disk into the drive.
First you need to run the program. Open the image that we are going to mount — we will use the menu items «File» — «Open». Specify the path to the image, select the desired file and click «Open».
Again use the menu, choosing the options «Tools» — «Mount to virtual drive».
The virtual drive window will appear. Here need to specify which drive to mount and click the «Mount» button. If there is only one drive and it is busy, first use the «Unmount» button.